BECOME A CERTIFIED
MASTER SELF-CARE + HEALING LIFE COACH
Become an expert in guiding your clients through a journey of self-healing, artistic expression, mindfulness and breakthrough transformation with The Master Self Care + Healing Certification. You'll learn how to develop key life skills around healing and reflection, mindful living, self-expression and navigating difficult life transitions, ultimately leading to greater well-being, inner peace, and resilience.
Is the Master Self-Care + Healing Life Coach Course Right for You?
Are you drawn to the idea of guiding individuals towards holistic well-being, empowerment, and personal transformation?

Do you believe in the transformative power of creative expression and its ability to bring about positive change in people's lives?

Are you eager to learn how to infuse mindfulness into everyday existence and support others in cultivating inner peace and clarity?

If you're feeling a resounding "yes" to these questions, then the Master Self-Care + Healing Life Coach course is the perfect fit for you.
Unlock a world of opportunity
Become the go-to expert for people
seeking a
self-care and inner healing
Becoming a Master Self-Care + Healing Coach is an incredible opportunity to guide others towards inner healing – a process that facilitates profound shifts, emotional release, and newfound clarity.

Through resource-rich curriculum, you'll leave equipped with a deep understanding of a variety of healing modalities and foundational coaching skills that empower you to be a catalyst for change.

If you're driven to uplift, encourage, and guide your clients in creating a life of joy that's free of pain, becoming a Master Self-Care + Healing Life Coach could be the right choice for you.
Expertly Designed. Internationally Accredited.
All You Need to Become a Sought-After Coach
From core coaching methodologies to advanced techniques, you'll gain a deep understanding of the principles that drive successful, in-demand coaching.
Foundational Coaching Skills
From core coaching methodologies to advanced techniques, you'll gain a deep understanding of the principles that drive successful, in-demand coaching.
Advanced Niche Training
Take your coaching to the next level by becoming an expert in three complimentary niche certifications, each offering a complete coaching blueprint you can use to start coaching right away.
Complete Coaching Packages
Get a done-for-you system ready to use with your clients, complete with exactly what to do and say during sessions to help your clients achieve specific results and reach their goals.
Lifelong Access and Self-Paced
Learn at your own pace and rush-free, as there are no certification deadlines. Learn what you want, when you want, and revisit the material throughout your entire career.
No Pre-Requisites Required
Perfect for any coach -- whether you're just dipping your toes into coaching or are an industry veteran looking to level up your career.
100% Risk Free
Don't love what you're learning? Try it risk free for 30 days. We'll refund you every penny, no questions asked.
See why life coaches choose the
Master Self-Care + Healing Life Coach Certification

over

anything

else.
Maximum Value. Lifelong Access. Unbeatably Priced.
What's Included In Your Program
Self-Healing Life Coach Certification
Discover how to unlock the door to inner peace for both yourself and those you guide on their healing journey by honing your skills around breath-work, meditation, visualization, and somatics movement.
Learn More
Therapeutic Art Life Coach Certification
Learn the psychology behind how and why art is such a powerful tool for improving wellbeing. Support clients in improving their self-expression, uncovering and releasing outdated patterns, tune into their intuition and explore their deepest dreams and desires.
Learn More
Mindfulness Life Coach Certification
Learn the blueprint for helping your clients develop mindfulness and meditation practices in everyday life. This course includes a 21 Day Mindfulness Challenge curriculum that contains over 50 mindfulness exercises and meditations.
Learn More
Focus Mastery + Breakthrough Life Coach Certification
Guide your clients to move onward, upward + forward through stress, life transitions, and healing from grief and loss. Breakthrough stuckness and procrastination with focus mastery + Law of Attraction.
Learn More
Get LIFELONG access to ALL of these tools for only:
Your Certificaton Awaits You
Meet Your Instructors
Tasha Ina Church
Self-Healing Course
Tasha is an Empowerment Coach in the Hawaiian Islands, offering retreats, private group coaching, and empowerment self-defense trainings to emerging women leaders so they can be their own heroes.
Victoria Hawkins
Therapeutic Art Coaching Course
Victoria is a Licensed Clinical Social Worker, psychotherapist, artist, yoga and dance instructor, and workshop facilitator. She's worked with clients of all ages for 20+ years; incorporating art, creative movement, wisdom teachings, creative writing, psychotherapy and mindfulness meditation.
Terez Hartmann

Focus Mastery + Breakthrough Course
Terez is a Law of Attraction coach, published author, speaker, singer-songwriter, recording & performing artist & composer, "Catalyst for Fab-YOU-lous" and true Renaissance Woman.
Joeel & Natalie Rivera
Therapeutic Art Coaching + Mindfulness Courses
Stephanie is anccomplished empowerment coach, award-winning marketer, business mentor, TEDx speaker, and bestselling author. Stephanie's goal is to help you become your own superhero in life, love, business, being, and brand.
You can't go wrong with our
"I Love This Training" Guarantee!
We know there's no way you're truly able to decide if a course or certification program is right for you until you actually get inside.

So today, we're not asking you to decide if this the perfect program for you.
We're inviting you to take a look around and assess whether the information our experts have laid out for you is worth your time and attention.

At the end of the day, we value your transformation over profit.

Yes, we're extremely confident that this training will transform your life just the way it's transformed the lives of over 700,000 students across the globe.

But if for any reason -- whether it's in 30 minutes or in 30 days -- you decide this course isn't for you, simply send us an email within 30 days of your purchase and we'll refund you right away.

No questions asked, no explanation needed, no monkey business.
Ready to become a
Certified Master Self-Care + Healing Coach?
Transformation Academy's Certified Master Self-Care + Healing Program offers everything you need to know to be a confident, trusted, and ethical coach at a fraction of the cost of other coaching programs. Don't put off your dreams of becoming a coach any longer! Start your training today!
Self-Healing Life Coach Certification
Therapeutic Art Life Coach Certification
Mindfulness Life Coach Certification
Focus Mastery + Breakthrough Life Coach Certification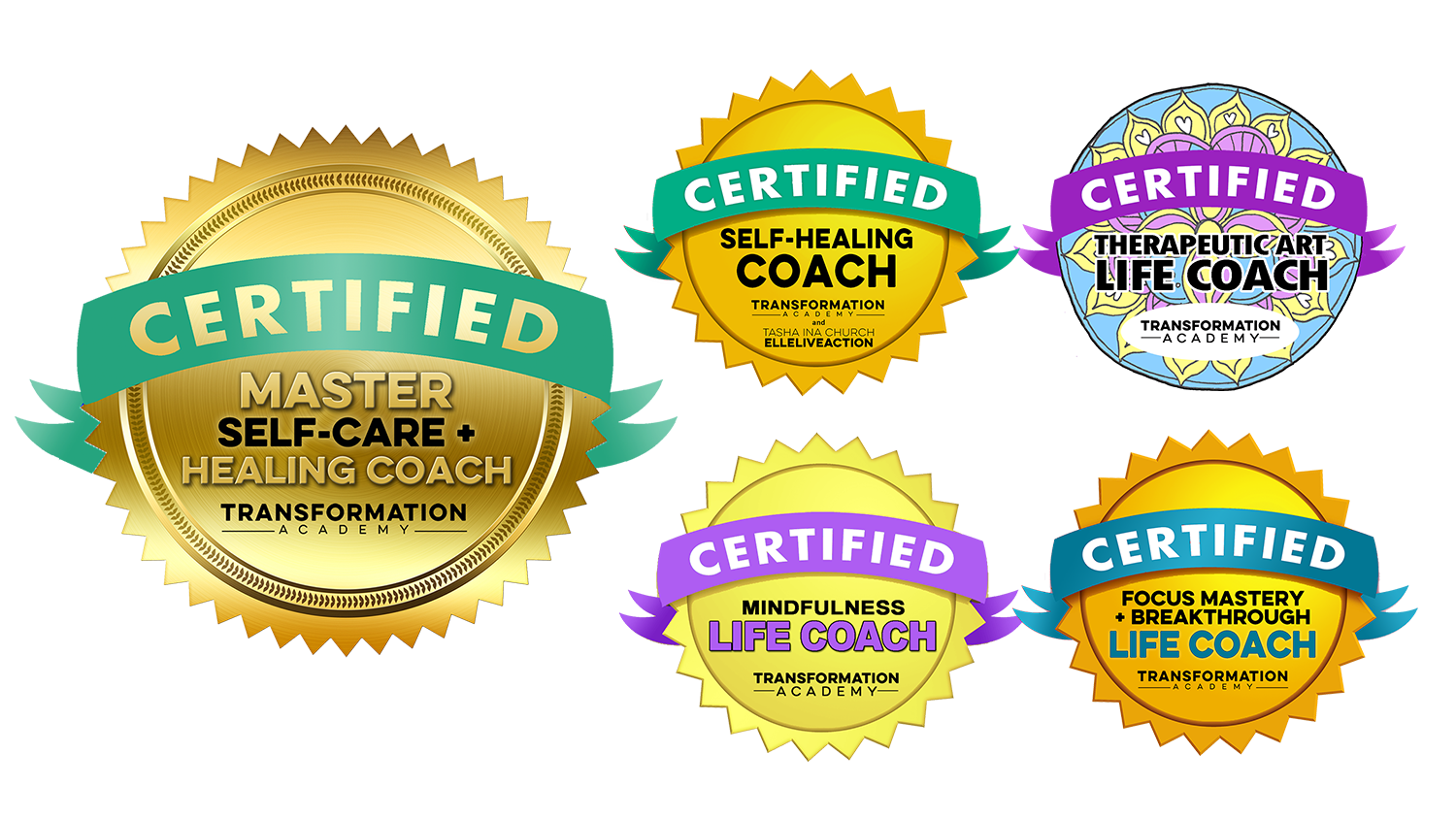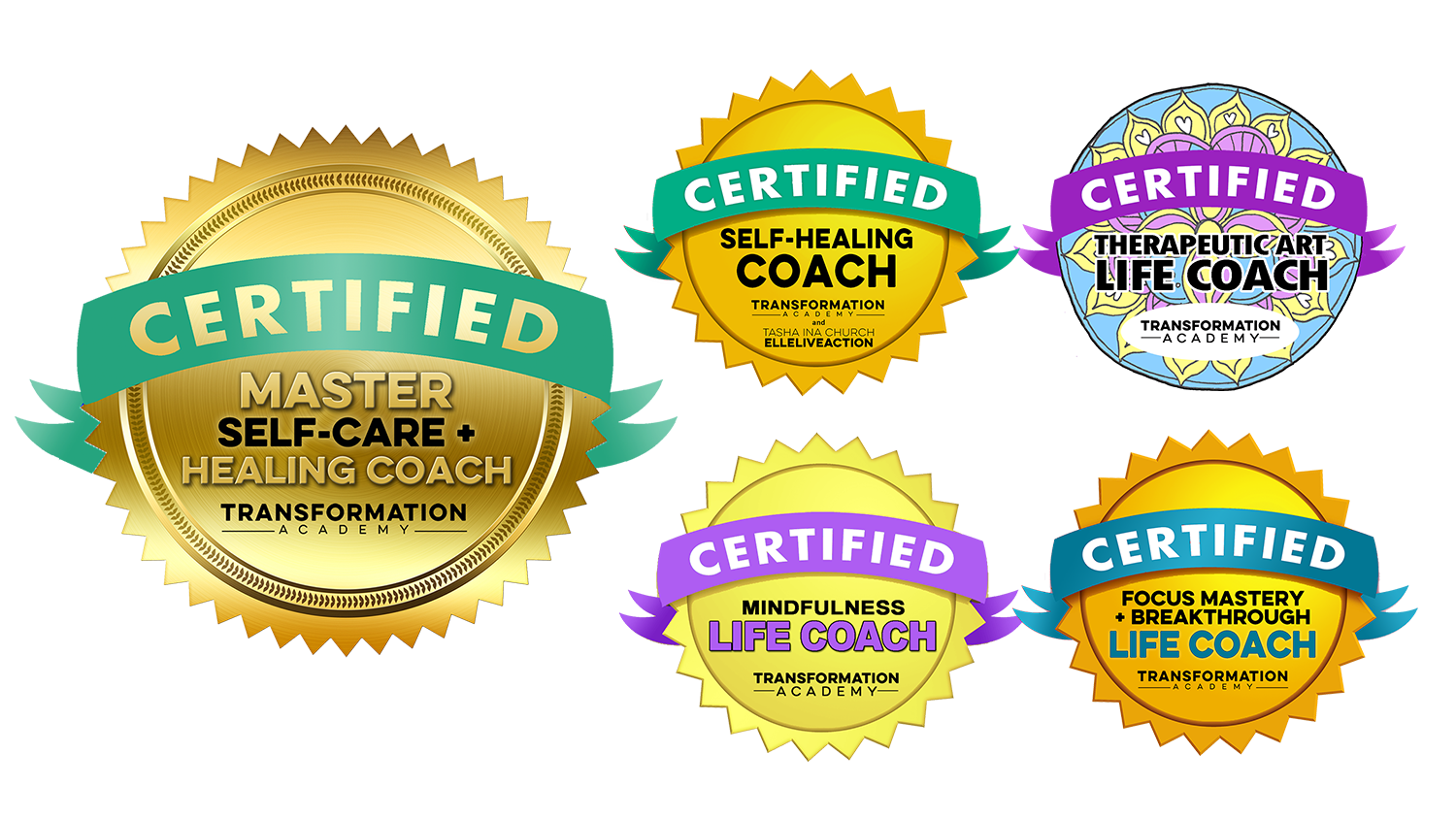 NOTE: In some devices, discounts won't show until the CHECKOUT PAGE.
Hear more of what our students have to say...