Quantum Leap Your Business in 6 Weeks
NOTE: In some devices, discounts won't show until the CHECKOUT PAGE.
Proven strategies for marketing, capitalization and achieving goals!
Taught by Joeel & Natalie Rivera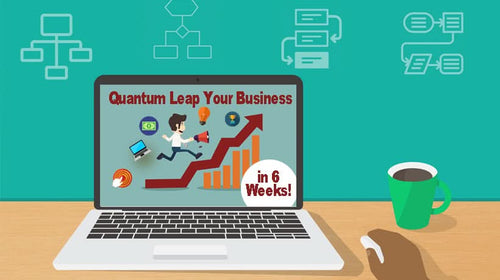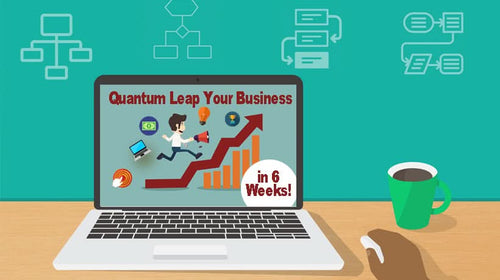 What you will learn
How to LEVERAGE your time and focus
How to stop reinventing the wheel
How to find partners that can accelerate your growth 10 fold
Specific steps to find your ideal customers
Craft your message so you gain instant credibility
Do research that is critical to your successs
Stand out as an expert in your niche
skills you will gain
CREATION: Making Your Idea Concrete
CONNECTION: Getting to Know Your Tribe
COMMUNICATION: Defining Your Message
MONETIZATION: Making Money with Your Mission
ACTION: Strategizing for Success
Tips for Staying Motivated
100% online course
Start instantly with lifetime access
Accredited Course
Accredited by internationally recognized Continuing Professional Development Standards Agency (Provider No: 50134)
Self-paced
Work at your own pace
From Beginner to Advanced
No degree or prior experience required
English
Subtitles: English
Praise for Transformation Academy
about this course
This program is designed to help budding entrepreneurs, infopreneurs, coaches or indiepreneurs take their business idea to the next level.
Do you want to make a difference and make money doing it?
Are you tired of feeling like a best kept secret?
Do you refuse to live in a corporate box?
Are you determined to fulfill your purpose?
This 6 part BOOTCAMP will take the guesswork out of business creation and expansion. We have personally used these exact tools to create rapid success, and in this program we are offering you OUR proven, step-by-step process.
The Quantum Leap program is for you if:
You're a small business owner, budding entrepreneur, life coach or private practitioner and you want to start or expand your business
You're frustrated because you know you're supposed to make a HUGE difference in the world and instead you're playing "small"
You want your business to work for you instead of feeling like you are a slave to it
You're ready to create a thriving business that supports the lifestyle you want to live
You want to implement proven strategies to create results quickly
You want to commit to a "real" business strategy, not just a gimmick or "get rich quick" scheme
In this course you'll learn how to:
Make your ideas concrete with solid market research and plans
Stop spinning your wheels and KNOW what action to take next
Quit wasting time & laser focus on INCOME PRODUCING RESULTS
Learn from success by implementing PROVEN strategies for business expansion
Discover your tribe of ideal clients and target your niche
Write epic marketing copy and know exactly how to sell your product or service
Feel empowered to put your expert hat on and share your wisdom with the world
Develop a strategy to monetize your mission including mastering your money mindset and pricing your products optimally
Set actionable short and long term goals in order to follow through
Learn strategies to stay motivated and hold yourself accountable
Do what you love and love what you do
Discover the process we used over and over again to start businesses (or implement new business ideas), each in only 6 weeks, with a limited budget, and turned them into a multiple 6-figure business!
If any of this resonates with you I've got GREAT news for you: you are SO in the right place right now!
In the 6-Week BOOTCAMP will take you by the hand and PERSONALLY walk you through the process of creating your dream and the freedom you crave. You see, we've figured it all out AND we're laying it out for you so you can easily duplicate our success. Our 6 week system for launching an idea and transforming it into a functional business, from scratch, with only a couple of hundred dollars in the bank account. What we found was all of the business ventures we created had the same process to jump start—or QUANTUM LEAP—it into success. The good news is that it's a teachable process. But it's deeper than that. You see, we LOVE more than anything to teach people how to take an idea and create it into a reality. Why? Because our process is such a FAST and EASY way to get results and it's SO exciting to get to share it with other entrepreneurs who want to do their part to make the world a better place.
So, ARE YOU READY TO QUANTUM LEAP?
course curriculum
Section 1) CREATION: Make Your Idea Concrete
Learn the simple-yet-powerful process of turning an idea into a creation utilizing powerful brainstorming techniques, learning the art of research, and implementing what you learned.
Section 2) CONNECTION: Identify Your Tribe and Niche
Getting to know your tribe is one of the most powerful things that you can do for yourself and your business. Understanding your niche, your target market, and your ideal clients is the key to marketing your business effectively. But embracing your core TRIBE of raving fans is the key to your business' success!
Identify your tribe—your ideal target market—and turn them into raving fans
Test your niche to see if it's profitable
Determine where to find your tribe members, both in person and online
Develop powerful collaborative relationships that get you direct access to your tribe
LEARN MORE...
Section 3) COMMUNICATION: Define Your Message
Many entrepreneurs that have a fantastic product or service put a lot of time and effort into marketing but have poor results. A HUGE cause of lack of desired sales or growth is COMMUNICATION… marketing isn't just about putting information out into the world about what you have to offer… it's about EXPRESSING YOUR MESSAGE in a way that is both appealing and converts to sales.
Create attention-grabbing and effective marketing materials
Express your message clearly and powerfully
Write powerful website copy that holds visitors' attention
Use calls-to-action to convert visitors into clients or customers
Feel confident expressing your message and explaining what you offer
LEARN MORE...
Section 4) CAPITALIZATION (aka Ca-Ching): Make Money with Your Mission
Whether you're venturing off on a new career, starting a business, or looking for ways to grow your current business, utilizing proven strategies is important—but if your goal is to make a difference AND make money (lots of it) doing it, then the most important thing you need to do first is MASTER YOUR MONEY MINDSET!
What you'll get out of this course:
Make a difference doing what you love and make money doing it
Develop an empowered, abundance-focused money mindset
Identify and overcome your money blocks (such as fear and guilt) that prevent you from making more
Fully understand and believe in the value you offer your customers/clients
Feel confident charging what you're worth
Create a profitable pricing sheet for your products, services or packages
Add additional revenue streams to your business
Automate your business so you can focus on doing what you love
Expand your business by collaborating with referral partners, joint ventures and affiliates
LEARN MORE...
Section 5) COMMITMENT: Plan for Success
Section 6) CULTIVATION: Stay Motivated and Inspired
Discover the four steps to success by knowing what you want, believing you can achieve it, creating a strong plan of action, and staying motivated along the way. Gain powerful tools that will help you complete each of these steps, and ultimately, your life goals!
4 Steps to Goal Success
1- Decide What You Want When you ask most people what their goals are or what they want out of life, they often cannot answer. And when they do, the goals they say are often what others have influenced them to want. This course will help you determine what YOU really want out of life and how to make your goals achievable and inspirational.
2- Know You CAN Achieve It Many people hold themselves back from the goals they really want because they believe they cannot have their true desires. Often people don't reach their goals, or even try, out of fear of change or failure. This course will help you find evidence from your own life that you can believe in yourself and give you the confidence to know that you have everything you need to be successful. Anything you want is possible for you.
3- Make a Plan for Achievement Even the most strongly desired goal cannot be achieved without a solid, actionable plan. Often, people get discouraged when goals are not reached or attempts lead to failure. This is most often because the goal wasn't well thought through and an effective plan wasn't made. This course offers detailed, yet simple, strategies for planning a route toward your goal, while keeping you motivated and on track.
4- Stay Motivated Even the best plan is ineffective if the person following it isn't motivated. And, unfortunately, most people leave motivation to chance—waiting until the moment that they need to feel motivated and finding it's not there. This course helps you prepare your mind state in advance so that your true desire and big reason for reaching for your goals are strong enough to pull you through those times when doubt, discouragement or procrastination threaten to zap your motivation.
LEARN MORE...
Purchased individually, these courses would total $185.
The Quantum Leap bundle saves you 45%!
meet your instructors
Joeel and Natalie Rivera
We are Joeel and Natalie Rivera—your soon-to-be coach trainers! (Yes, we're married AND work together… 24 hours a day… and we LOVE IT!) Below we'll tell you our story, briefly… the REAL story. The one that wasn't always easy but that lead us PERFECTLY to this place of living out our life's purpose and creating the thriving business (and the FREEDOM that comes with it) that we always wanted!
We seek to ignite a revolution of personal freedom through entrepreneurship, empowering each individual to reach their potential and fulfill their life's purpose.
We are freedom junkies and serial entrepreneurs who empower INDIEpreneurs to create a purpose-driven business and fulfill their life's purpose. We specialize in teaching people how to use their gifts to make money teaching what they know and love through life coaching and online courses. Joeel has a Master's Degree in Counseling and Education and is currently completing his dissertation for his Ph.D. in Psychology, with an emphasis on happiness.
In 2014, when we converted our print magazine into digital format, we found we could reach an exponential, worldwide market at a fraction of the time and cost. This inspire us to officially become INFOpreneurs. Then, in 2016 we received a proverbial "kick in the pants" to go "all-in" when Joeel fell ill after traveling overseas. Unable to leave the house, they continued to teach and empower others by turning their in-person workshops, speeches and coach training programs into online courses.
Start learning today
Taught by top instructors and coach trainers
Best value and price in the industry
100% 30-day money-back guarantee
No degree or experience required
Official certificate & logo upon completion